İtalyan Oyuncu
Doğum: 21 Nisan 1930, Roma, İtalya
Ölüm: 16 Aralık 1989, Madrid, İspanya
Eşi: Dino De Laurentiis (e. 1949–1988)
Silvana Mangano (Italian pronunciation: [silˈvaːna ˈmaŋɡano]; 21 April 1930 – 16 December 1989) was an Italian actress.
Raised in poverty during World War II, Mangano trained as a dancer and worked as a model before winning a "Miss Rome" beauty pageant in 1946.[2] This led to work in films; she achieved a notable success in Bitter Rice (1949) and continued working in films for almost four more decades.
Born in Rome to an Italian father and an English mother (Ivy Webb from Croydon), Mangano lived in poverty caused by the Second World War. Trained for seven years as a dancer, she was supporting herself as a model.
In 1946, at age 16, Mangano won the "Miss Rome" beauty pageant and through this, she obtained a role in a Mario Costa film. One year later, she became a contestant in the Miss Italia contest. Potential actress Lucia Bosé became "The Queen", among Mangano and several other future stars of Italian cinema such as Gina Lollobrigida, Eleonora Rossi Drago and Gianna Maria Canale.
Mangano's earliest connection with filmmaking occurred through her romantic relationship with actor Marcello Mastroianni. This led her to a film contract, though it would take some time for Mangano to ascend to international stardom with her performance in Bitter Rice (Riso Amaro, Giuseppe De Santis, 1949). Thereafter, she signed a contract with Lux Film, in 1949, and later married Dino De Laurentiis, who was on the verge of becoming a known producer.
Though she never scaled the heights of her contemporaries Sophia Loren and Gina Lollobrigida, Mangano remained a favorite star between the 1950s and 1970s, appearing in Anna (Alberto Lattuada, 1951), The Gold of Naples (L'oro di Napoli,Vittorio De Sica]], 1954), Mambo (Robert Rossen, 1955), Theorem (Teorema, Pier Paolo Pasolini, 1968), Death in Venice (Morte a Venezia, Luchino Visconti, 1971), and The Scientific Cardplayer (1972).
The Bosnian singer Silvana Armenulić took her stage name from Mangano.
Married to film producer Dino De Laurentiis from 1949, the couple had four children: Veronica, Raffaella, Francesca, and Federico. Veronica's daughter Giada De Laurentiis is host of Everyday Italian and Giada at Home on the Food Network. Raffaella coproduced with her father on Mangano's penultimate film, Dune (David Lynch, 1984). Federico died in an airplane crash in 1981 in Alaska. De Laurentiis and Mangano separated in 1983, and Mangano began divorce proceedings in 1988.
Following surgery on 4 December 1989 that left her in a coma, Mangano died of lung cancer in Madrid, Spain, during the late night/early morning hours between 15 and 16 December 1989.
Filmography
Bitter Rice (1949) – Silvana
Anna (1951) – Anna
Ulysses (1954) – Circe / Penelope
La Grande Guerra (1959) – Costantina
Five Branded Women (1960) – Jovanka
Barabbas (1961) – Rachel
Il disco volante (1964) – Vittoria Laconiglia
Edipo re (1967) – Jocasta
Teorema (1968) – Lucia (the mother)
Morte a Venezia (1971) – Tadzio's mother
Gruppo di famiglia in un interno (1974) – Marchesa Bianca Brumonti
Dune (1984) – Rev. Mother Ramallo
Oci ciornie (1987)
Although performed by Flo Sandon's, Silvana Mangano was credited on the label of the recording of "El Negro Zumbón", known as "Anna" in the U.S.A., which is from the soundtrack of the film Anna (1951) and was a hit song in 1953. A clip of the opening of this performance is featured in the film Cinema Paradiso (1988).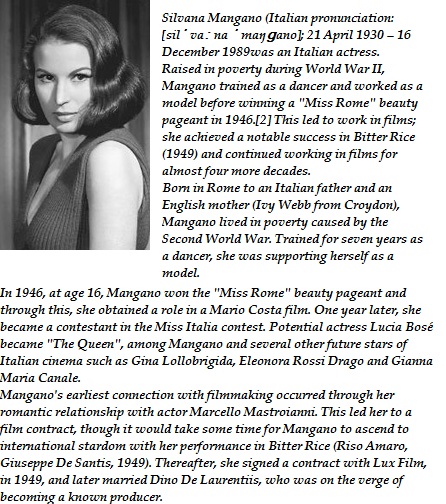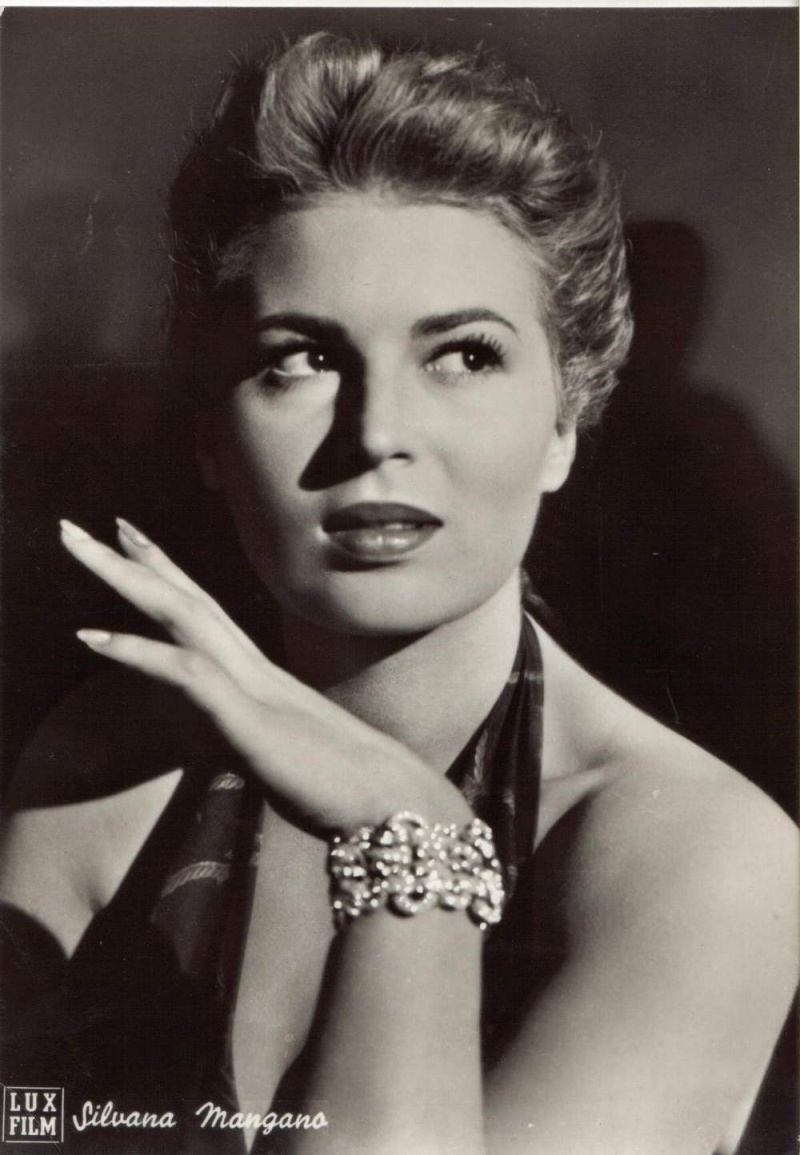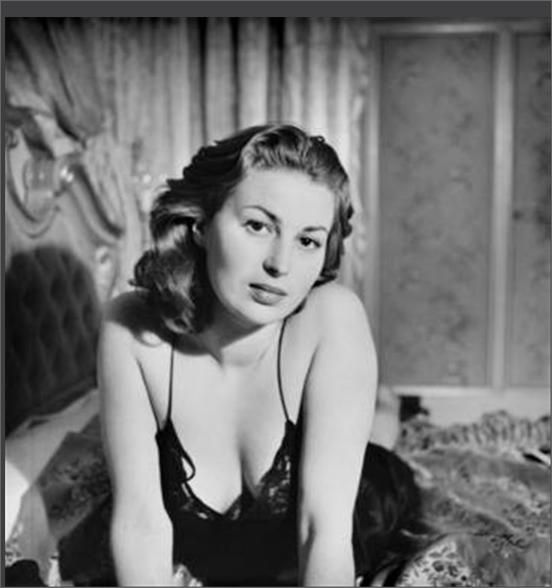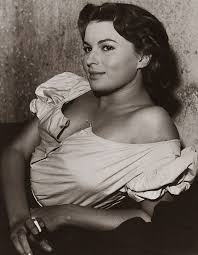 Admin




Mesaj Sayısı

: 5213


Kayıt tarihi

: 27/01/08




---
Bu forumun müsaadesi var:
Bu forumdaki mesajlara cevap
veremezsiniz